Stare at this negative picture of the queen for approximately a minute. Do not look away or the illusion won?t work. After a minute has passed, look away to a blank wall or to piece of paper. You will see the queen?s face floating beneath your eyelids, not in negative, but as an actual photograph. This works in the same way as ?the face of Jesus? illusion; your brain transplants the negative image with positive light, in effect reversing the negative image. The Queen appears accurately, her pale face surrounded by her brown hair, string of pearls and dark dress.
---
The Queen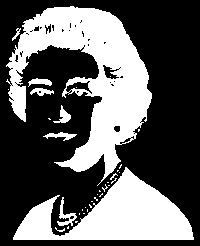 Stare at the negative image of the Queen for about 1 minute
without moving your eyes. Then look at a blank sheet of paper
and you'll see the queen.



---
Next Illusion...



---
ShareThis
---
Archive of illusions.org: